Home | About Us | Annual Competitions | Open Competition | Membership | Events | Comments | Columnists | Members work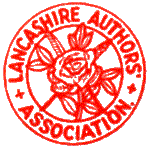 LANCASHIRE AUTHORS' ASSOCIATION
We are an association devoted to the study of Lancashire literature, history, traditions and dialect.
Podcasts | Children's Page | Other Competitions | Contact Us | Links
Pictures page Rochdale
The Open Meeting at Rochdale brought together writers from an area where the Lancashire Authors' Association started in 1909. The mixture was sublime and diverse and the talent on show was refreshing.
Please enjoy the pictures below.