Home | About Us | Annual Competitions | Open Competition | Membership | Events | Comments | Columnists | Members work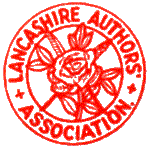 LANCASHIRE AUTHORS' ASSOCIATION
We are an association devoted to the study of Lancashire literature, history, traditions and dialect.
Podcasts | Children's Page | Other Competitions | Contact Us | Links
NEXT MEETING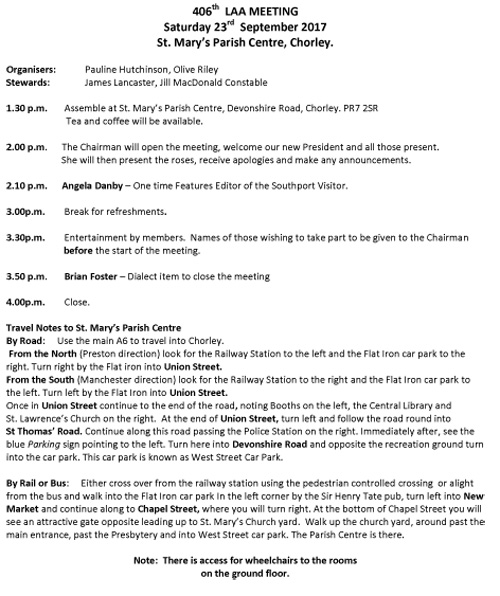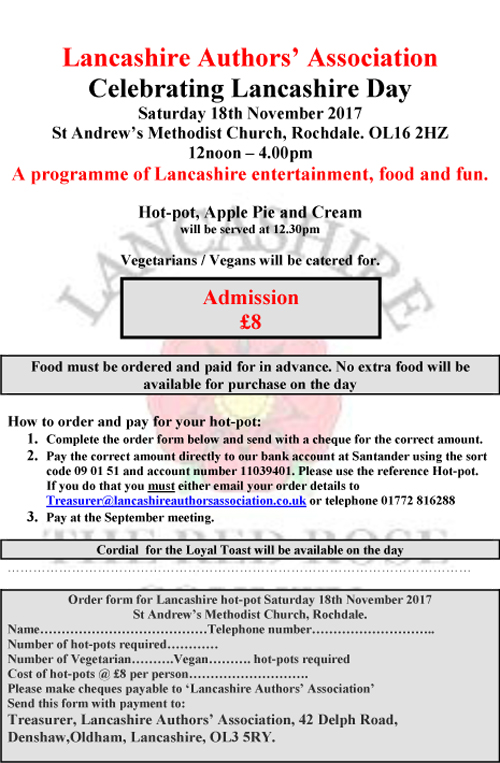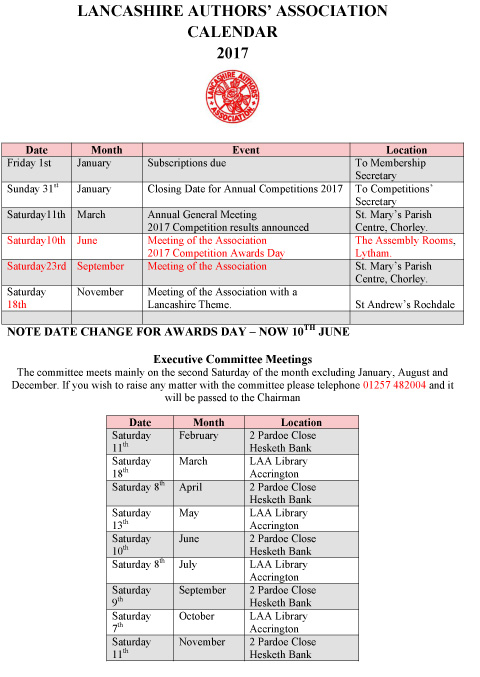 401st LAA Meeting
Awards Day
Saturday 4th June  2016
On a warm and sunny afternoon more than 30 people attended the Awards Day at Lytham Assembly Rooms.  The meeting commenced with the arrival of the Town Mayor of St Anne's , Councillor Cheryl Little who was welcomed by Chairman Pauline Hutchinson who presented her with a rose.  A rose was also presented to our guest speaker.
Apologies for absence were received from Lilian Boucher, Eileen Beech, Tom Halsall, Lily Driver, Carol Talbot and Steve Keelan.
The guest speaker Katharine Gardner was introduced by Secretary John Winstanley.  Katharine talked about her life and how she became a published author under the name of Katharine Ann Angel.  Her first published work was Being Forgotten a book of short stories about marginalised teens.  This was based on the knowledge she gained as a tutor to excluded teenagers and her experiences as a foster parent.   Katharine has also published two novels and is now working on a third.   She sells her books once a month on a stall on Preston Railway Station and gave lots of tips on how to publicise your work via social media. She was thanked for her interesting talk by Chrissie Keelan.
Last year's challenge to write a story for a film by Haywards Heath Moviemakers was won by Stan Holgate.  Unfortunately Stan died earlier this year but his family came to the meeting to watch the film called Behind Closed Doors.  A copy of the DVD was then presented to Stan's family.
After a break for refreshments the Awards Ceremony took place and the trophies were presented by Councillor Little. The Writer of the Year Award went to Dan Forrester for his short story Are you There Dear?  On this occasion the winner of the award was selected by Melinda Hammond, one of our Patrons. We were delighted that Melinda and husband Terry were able to join us for the afternoon. Entertainment followed given by members Chrissie Keelan, Pauline Hutchinson, Gwyneth Cleweth, Brian Foster, Dan Forester, James Lancaster finishing with Peter Jones giving a stirring rendition of Hotspur's  speech  from Henry IV which he did from memory.
The Chairman then closed the meeting and wished everyone a safe journey home.
To see pictures from this meeting, please click here
Annual General Meeting Saturday 12th March 2016
A Brief Report
A successful and enjoyable meeting took place at St. Mary's Parish Centre, Chorley.
The meeting, opened by the President Lily Driver, was disappointingly, very poorly attended and only ten apologies were received.   Lily welcomed those gathered, before handing over to the chairman Pauline Hutchinson.
A silent tribute was paid to those members who had died since the A.G.M. 2015 with particular mention of the late Stan Holgate.  As part of the tribute Christine McCherry read a poem she had written in Lancashire Dialect following Stan's death.
The minutes of the AGM 2015 were accepted and there were no matters arising.
The Officers' reports gave a full picture of the year's activities.  Members present took an active part and the business agenda was completed smoothly. All details will be recorded in the minutes which will be sent to members prior to the AGM 2017.
Those members standing for election to the committee were voted in. Tom Ungless now being Treasurer and not Acting Treasurer.
Dana Nadeau resigned from the committee due to ill-health.
Main Points:-
Membership is static; we are gaining new, younger members but are losing others through infirmity and death. All members need to work hard to introduce new members.
Finances are a concern. Savings need to be made. Postage costs have increased dramatically. To help with this the Newsletter will be reduced to A5 size, the same as other Records, immediately saving 20p per copy. E-copies will also be considered. A new member has offered to print the Records and just claim expenses.
Competitions in 2015 and 2016 gained sponsorship for the prize money, including £100 from Langtec Lancashire for the Open Flash Fiction Competition. The £25 donated by Stan Holgate shortly before his death will be used to sponsor the Open Dialect Competition 2017.
The Library is now in very good order but needs customers. Please spread the word.
Publicity has been gained through the monthly column in the Chorley Guardian. Radio Lancashire responded to a request from our publicity officer and did a live broadcast from our Lytham, Lancashire Meeting. Edge Hill University English department has also shown an interest in the Open Flash Fiction competition.
The LAA new and improved website is up and running. The webmaster would like members to send him more items to add to the site. There is a comments page and comments and questions are encouraged.
FORUM
John Winstanley raised the issue of increased membership fees following a suggestion made by him, seconded by Peter Jones, at the committee meeting held on February 13th 2016.
The suggestion is to raise single membership to £17.50 and joint membership to £22.00.
A discount would be given to any member who elected to receive the Records as an
E-copy, for these people subscriptions would remain as at present, £15 single and £19.50 joint, membership.  This suggestion will be included in the June Record to enable members to have time to think about it. It will then be placed on the agenda of the AGM 2017 in the form of an official proposal and if agreed will be introduced in January 2018.
Dan Forrester read the short story he had written for a Readers Digest competition for which he had been shortlisted. He asked members if they liked the story to vote for him.
Next the eagerly awaited annual competition results for 2016 were announced.
Following a break for refreshments and socialising, the meeting continued with the usual entertainment by members. 
The chairman then thanked all those who had worked in any way to make the meeting a success and closed the meeting wishing everyone a safe journey home.
LAA MEETING OCTOBER 24th 2015
After the usual welcome by the President, the reading of the safety notice and acceptance of apologies by the chairman, the meeting got off to a lively start. Members and friends were treated to a poetic duet, written and performed by member Christine McCherry, ably assisted by Mary Cardwell as, Alice and the Mad Hatter respectively, to celebrate the 150th anniversary of the publication of 'Alice's Adventures in Wonderland' by Charles Lutridge Dodgson (pseudonym Lewis Carroll.) 150 years ago on November 26th 1865, this book was first published and has never been out of print since.

Written as children's fiction, it is also loved by adults. Based on real people of the time, the characters were woven into a story the author told to his child friend, Alice Liddell and her sisters. Alice, fourth child of Henry Liddell, Dean of Christ Church Oxford and his wife Lorina, was the main character. (Alice died in 1934 aged 82 years, all her life she bore the burden of being 'Alice in Wonderland').

This was followed by an impromptu performance of several items given by Les Bond.

Santa and Rudolph, Brian and Olive Riley, were next to arrive for a reading of 'Santa's  Credit Crunch' taken from Olive's book of poems, 'All Over by Christmas' which was sold to raise funds for the Liverpool Pals Memorial Fund.

Unfortunately, Chrissie Keelan was not present due to ill health so Lily Driver kindly agreed to read Chrissie's item about Chorley Little Theatre, which had recently been published in the Chorley Guardian.

Pauline Hutchinson, LAA Chairman gave a Power Point Presentation, 'How to Present Your Work.' Despite some problems with the equipment this was interesting and informative, setting out the correct format for work to be submitted to publishers, magazine editors and for competitions. With the rapidly increasing number of Writing Groups, competitions are fiercely fought; magazine editors and publishers expect a high standard of presentation.

These rules of presentation will apply to the LAA Annual Competitions and to the
2016 Open Flash Fiction Competition, 'A Story in exactly 100 words' excluding the title. (More details on that to come.)

Some questions were asked and a short discussion took place. All those present received handouts of the actual slides shown and the explanations given by Pauline. (Anyone not present who would like these papers, please contact Pauline, as stated in the October Record.) Following the break for refreshments which included lemon drizzle cake and chocolate biscuits, the meeting continued with readings by members Stan Holgate, Mary Cardwell, Christine McCherry, Olive Riley, John Winstanley and Dana Nadeau. As usual, to end the session, Brian Foster ably read the dialect item, titled 'In the Springtahm we roamed bi the Ribble.' by Dave Dutton.
For pictures from this meeting, please click here.
* * * * *
For other meetings reports and pictures please visit our Reports page