Home | About Us | Annual Competitions | Open Competition | Membership | Events | Comments | Columnists | Members work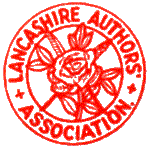 LANCASHIRE AUTHORS' ASSOCIATION
We are an association devoted to the study of Lancashire literature, history, traditions and dialect.
Podcasts | Children's Page | Other Competitions | Contact Us | Links
LAA REPORTS PAGE
405th LAA MEETING
AWARDS DAY
Saturday 10th June 2017
On a cool and showery afternoon about 30 people attended the Awards Day at Lytham Assembly Rooms.  The meeting started with the arrival of Deputy Mayor Elect of St Anne's Councillor Carol Lanyon who was welcomed by Chairman Pauline Hutchinson and presented with the traditional red rose. 
Apologies were received from Lily Driver, Dana Nadau, Tom Halsall, Mary Cardwell, Lilian Boucher, Carol Talbot, Steve and Chrissie Keelan, Jeanette Greaves and Jill McDonald Constable.
Also Sid Calderbank, who was ill. 
The committee are delighted that Sid has accepted their invitation to become the next LAA President, and had planned to inaugurate him at this meeting.
The first item was a film made by Haywards Heath Movie Makers from a story by one of our members Peter Jones.  The story was titled Cause for Concern but this was changed for the film version to Shock Treatment.  The theme for the story was Drama Queen. It was one of just two entries from LAA for the 'Write a story for a Film Challenge' set us each year by the Movie Makers.
This was followed by David Evans, our guest speaker, who gave a very interesting talk on Blackpool's Hidden Heritage.  He told us that Blackpool got its name not from a black pool but a black pull which is an old word for a stream.  It was the first holiday resort set up entirely for the working people of Lancashire in the 19th century as most other resorts were developed from places visited by the middle classes.  He gave many facts about the town that were not known by most of the audience.  For example, Beatrice Potter was cremated in Blackpool, Amy Johnson flew to Blackpool to visit her aunt and her final flight was from the local aerodrome and Jaguar Cars started in Blackpool.
After this the Awards Ceremony took place. First to be presented with his award and certificate was, Neil Wilson, winner of the 2016 Open Flash Fiction competition. We were delighted that Neil was able to be with us, having travelled over the border from Yorkshire. (He enjoyed the afternoon so much he is thinking of joining LAA.)

The trophy for the Batty Cup, went to Elle-Marie Hinchcliffe for her poem Ghosts.
The Mercer Cup was won by Dan Forrester with his story, The Field Trip.
The writer of the year was Elle-Marie Hinchcliffe 
All trophies were presented by Councillor Carol Lanyon.
Dan Forrester, LAA treasurer, spoke briefly about the National Association of Writers' Groups (NAWG) and the opportunities available to members. LAA has recently joined this association.
After a break for refreshments entertainment was provided by the following members:
James Lancaster, Dawn Prestwich, Christine McCherry, Maria Bertolone.
Neil Wilson also read his winning story – Life after Death.
It was good to have our patron, Melinda Hammond and her husband Terry join us on this occasion, and we must thank Melinda for bringing free copies of her next book, due out in September.
We were also joined by Carol Fenlon, one of the competition adjudicators.  
For pictures of the above please click here
Brief Report on A.G.M of the Lancashire Authors' Association on the 11th of March 2017.
Tom Ungless gave an interview on Radio Lancashire on the morning of the meeting publicising the Lancashire Authors' Association meeting. In addition he visited various Library's/ Writing groups and left details of the meeting. Peter Jones also posted it on several Facebook pages /forums. Despite this there was a disappointing turnout.
The meeting began with a welcome to those present.
This was followed by a Silent Tribute to members who had died since the last AGM; in particular Rita Jones our Publicity Officer.
The A.G.M. reports had been posted to members in advance and proved to be helpful in shortening the time taken up in the formal part of the meeting.
The Officers standing for the committee were elected, but there is still a vacancy for Assistant Competitions' Secretary following the resignation of Chrissie Keelan.
The proposal to increase subscriptions was defeated. Membership fees will remain as at present.
With the business over, refreshments were served including cake and biscuits.
Christine McCherry read a poem she had written called 'Welcome Lancashire Authors'
The entertainment programme began with Callum Thomas, a young musician from Oswaldtwistle playing Keyboard and singing 'Hallelujah'. He followed this with some of his own compositions.
Alison Chisholm, patron of the L.A.A. gave an entertaining performance of some of her poetry.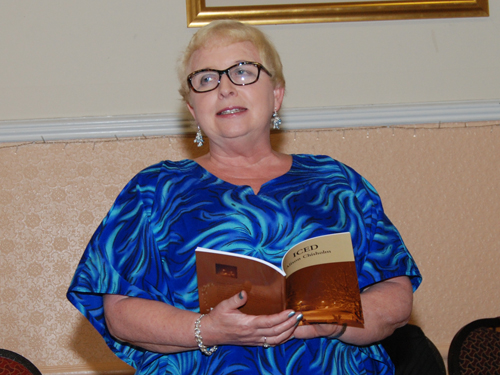 We were then treated to an interesting and informative talk by Nick Oldham, best-selling author of crime fiction.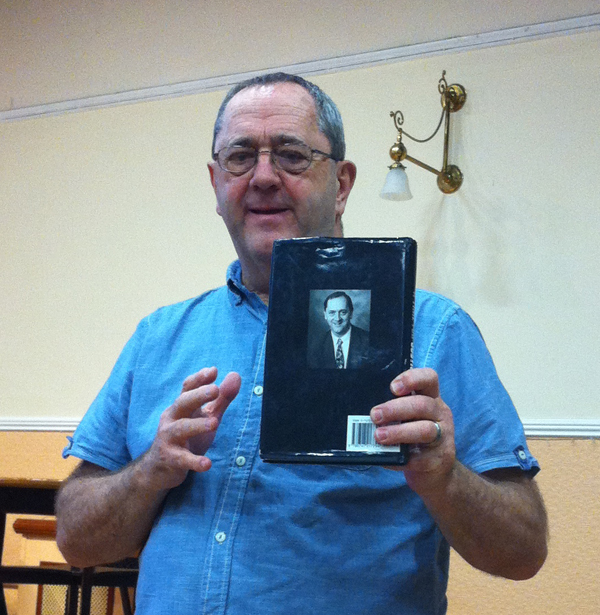 To conclude, Callum played more of his own work as well as classics like David Bowie's "Life on Mars"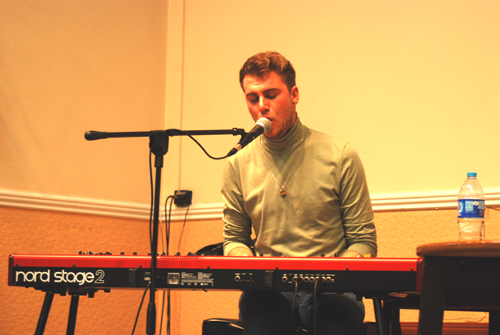 The meeting ended with the announcements of the winners of the 2017 competitions.
These results will be put on the website shortly.
Christine McCherry
LAA Member
Pictures by Peter Jones and Dan Forrester
Astley Hall, Chorley. (Sunday 27th November 2016)
Astley Hall came alive and Lancashire Authors were there.
Although it was 27th November, Christmas was in the air.
In this sixteenth century building, a tree stood proud and tall,
Santa's sleigh of red and gold was right there in the beautiful hall.
My mind drifted back in time, to the days when this place was a home,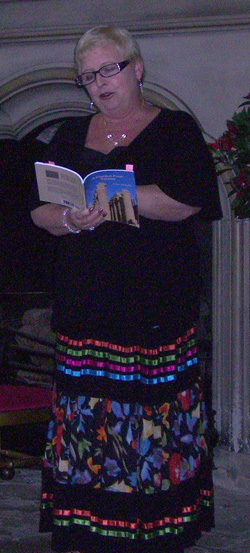 A huge, log fire would burn in the grate and the table with food would groan!
Ladies and Gents in their finery would dance the night away.
"Hello" said a voice close beside me, bringing me back to today.
A small group of L.A.A. members had joined the activities there,
They took it in turns to do readings, from their works, as they sat by the stair.
Visitors engaged with members, beside the interesting display,
Bracketed by two banners advertising the L.A.A.
Outside were other attractions, clog dancing, Morris Men and bands
The Town Crier making announcements, all day lending a hand.
L.A.A. had its star attraction, from Southport, a published poet came,
Well known across the country – Alison Chisholm of 'Writing' fame.
Alison read some beautiful poems selected from her latest book.
Passers-by, hearing her words, stopped, to listen and to look.
Around 3 p.m. it went quiet, so we packed up our things on display
And feeling the day had been a success, set off, each going our separate way.
* * * * *
Thanks for giving of their time go to: Tom and Heather Ungless, Dea Parkin, Jeanette Greaves, Pam and John my two friends from Bristol and last, but not least, our patron Alison Chisholm.
During the afternoon I was delighted to present Alison with the L.A.A. Angus Butterworth Trophy.
This trophy is awarded each year to someone whose aims and ideals are in line with those of Lancashire Authors' Association.
© 2016 Olive J Riley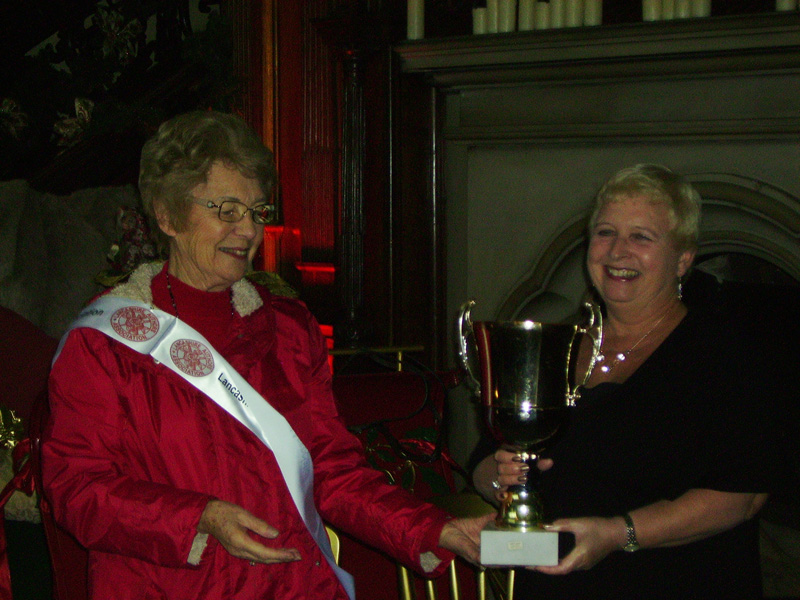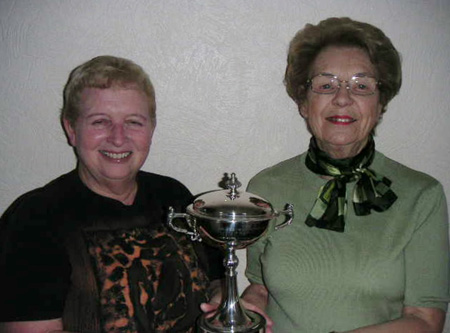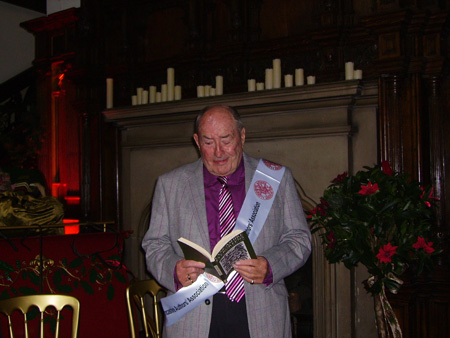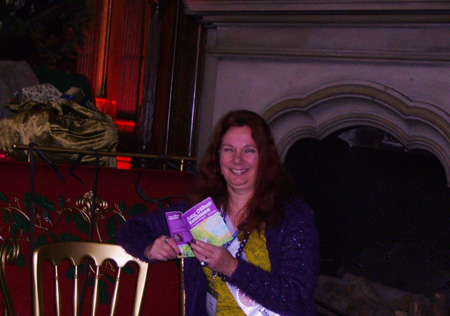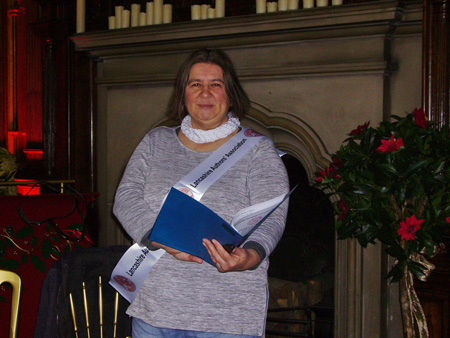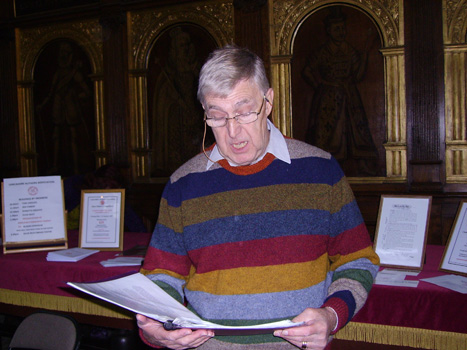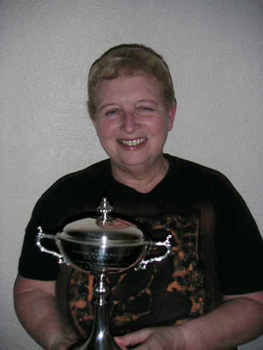 * * * * *
Report on the Lancashire Meeting
Saturday 19th November 2016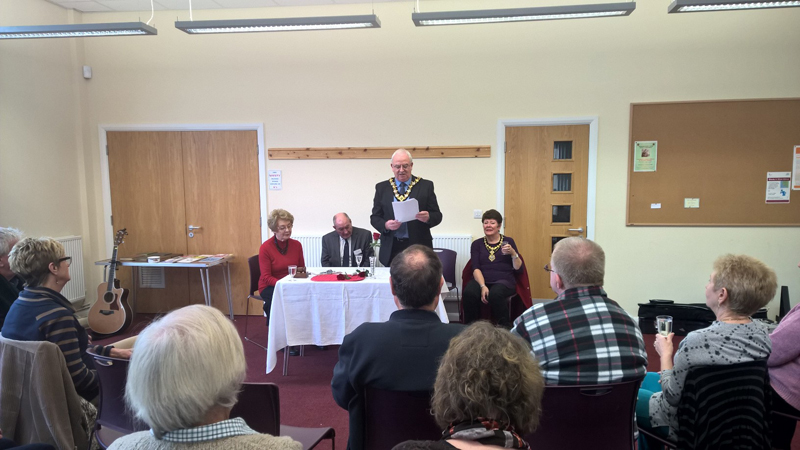 Lancashire is just as much a home to snow as it is to cotton mills, so a touch of wintry weather isn't going to keep lovers of the county's literature, music and history from the 2016 Lancashire Day.
The event was again held in Rochdale, the birthplace of the LAA, and was opened by Olive Riley passing on the apologies of those who couldn't attend before presenting Lancashire roses to the Mayor and Mayoress of Rochdale, Cllr Ray Dutton and Cllr Elaine Dutton. The Mayor read the Lancashire Day Proclamation and led a toast to The Queen, Duke of Lancaster.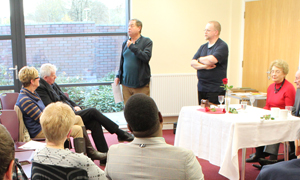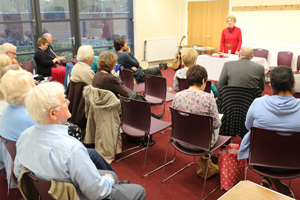 The entertainment commenced with Tony Stone and Tony Henry from the amateur dramatic society Poulton Drama, who recounted their participation in the project "Dream 2016". As director and actor respectively, they were part of an ambitious collaboration between the RSC and local amateur groups, along with a total 650 children, to stage a production of A Midsummer Night's Dream in fourteen locations throughout the UK to celebrate 400 years since the Bard's death.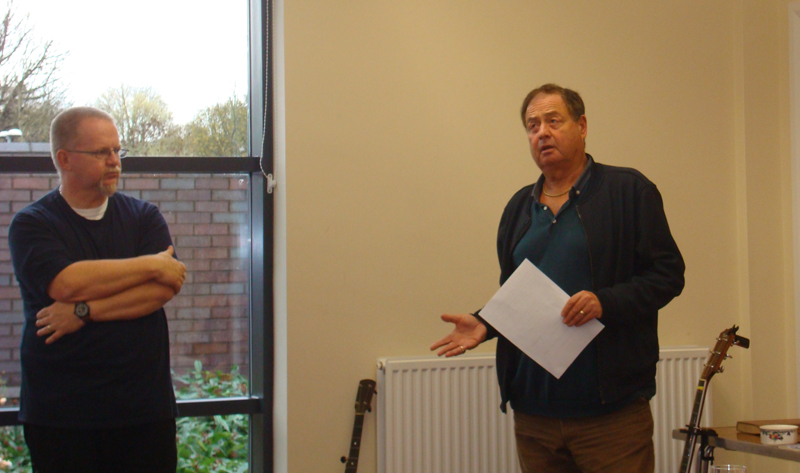 Their journey was one of auditions, rehearsals, intensive training days and even, for Tony Henry, a trip to hospital after coming off second best in a movement workshop. Nobody ever said Shakespeare was easy, but that was nothing compared to the two-minute dance video they had to make to show off their skills.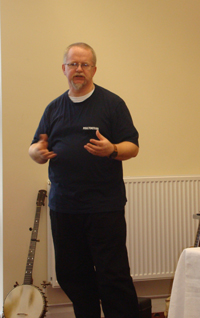 Their hard work eventually led them to seven shows at Blackpool's Grand Theatre, but it didn't stop there; they were such a success that the RSC invited them to top off Dream 2016 with two performances in Stratford.
Tony Henry rounded off their entertaining talk with a monologue from Bottom, his role in the play, which was extremely well received.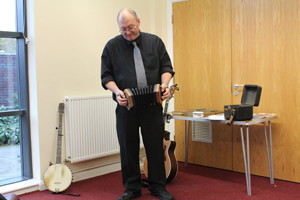 We were then treated to some traditional Lancashire folk music from Mark Dowding with his accordion, banjo and guitar. Mark gave us a quick history of each song, and has such a natural and entertaining style that the room was soon singing along to "We come a cob-a-coalin' on Bonfire Neet!"
Next up was Burnley poet Mervyn Hadfield who went down a storm with his collection of witty poems, including one about Spinnach the Cat!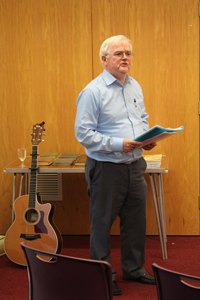 It was time to break for tea and we were treated with sandwiches, vol au vents and Chorley Cakes. Quiz sheets were also circulated, written by Maeve Fagan and Brian Foster to test our knowledge of Lancashire history and the meaning of words in the traditional dialect. Answers would be revealed later on …
Unfortunately the Mayor and Mayoress had to leave after tea; we were after all their third engagement of the day but not their last, so our thanks go to them for taking the time to join us.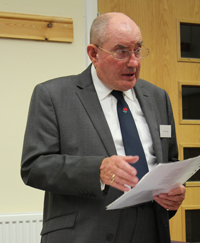 The entertainment continued with Mervyn and Mark completing their sets, and finally the answers to the quizzes were given by Maeve and Brian and the two winners, each presented with a red rose.
A very well-attended and thoroughly enjoyable Lancashire Day concluded for another year.
A big pat on the back to Olive for managing and hosting the event, and also thanks to those that helped by serving drinks and food and making sure the day went as smoothly as it did.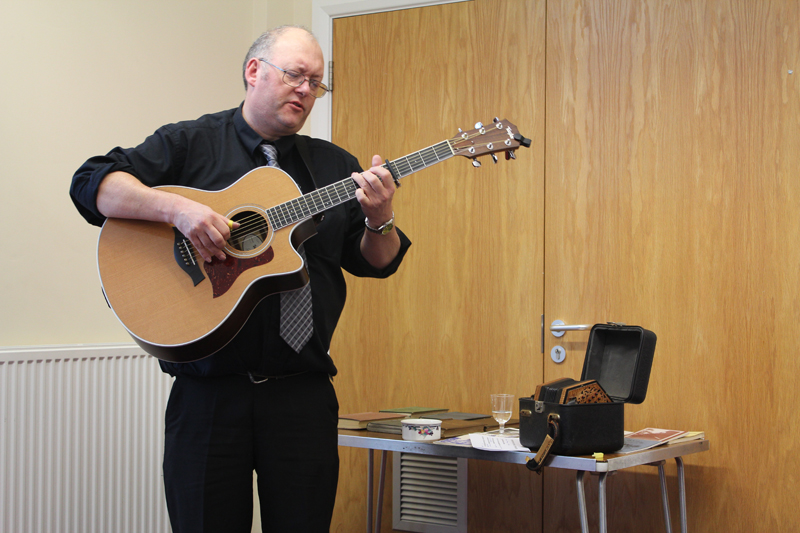 Written by Dan Forrester
. Top picture courtesy of Mayor's Office. All other pictures Catherine Jenkinson and Dan Forrester
Rose on front page Catherine Jenkinson
* * * * *
Report on LAA Meeting on Saturday 24th September 2016 at Chorley
Sadly we were again a very small audience with apologies received from almost as many members as those attending.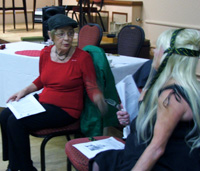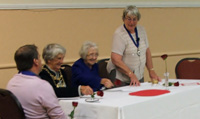 Such a small number was very disappointing and rather embarrassing in the presence of the Mayor of Chorley Cllr. Doreen Dickenson and her Consort.  The committee are baffled as to why members did not attend on this occasion as the planned programme proved to be very interesting.
Chris Martin's Mystery Play "St. Bernard's Goes to the Dogz" involved several of the audience including the Mayor's Assistant, in reading the various parts.  Everyone present was given an answer sheet and asked to name the two people who had committed the crime. (The Drama Teacher had been locked in a room all night).  A small prize was given to the winner, Brian Riley and the runner up, our President's fiancé Frank Stubbins.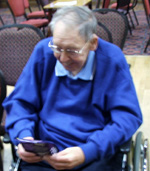 This was followed by the interval for refreshments and socialising, a chance for some members to talk to a guest who had come along that day with the specific aim of joining LAA.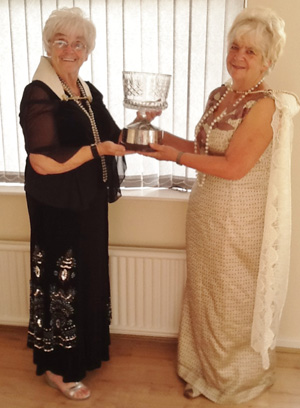 Christine McCherry and Mary Cardwell then transformed themselves into Juliet and Kate to perform "Shaking up Shakespeare" a poetic duet written by Christine. Briefly, it supposed Juliet had married Romeo who had a roving eye. Kate was very much into men. Juliet discovered their misdemeanour and a spat ensued which resulted in Kate poisoning Juliet and as she was dying, her last act was to stab Kate. Woven into the dialogue were 16 titles of Shakespeare's plays and  quotes.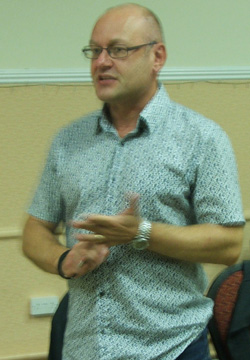 Well done to both, this was an amusing sketch, cleverly written.
The Bill o' Bows Trophy was then presented by the Mayor to Christine and Mary.  This trophy is presented annually to "a stalwart of the LAA, someone who works hard or is a keen member".  These two ladies fit all categories so the committee decided to award it jointly.  Congratulations.
Unfortunately we were unable to show the promised DVD as we were short of technical know-how, Peter Jones was unable to be with us and the back–up member had a fall on Saturday morning. It can always be shown again.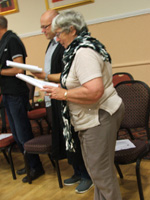 The afternoon ended with varied entertainment by the following:
Lily Driver, Elle Marie Hinchcliffe, James Lancaster, Tom Ungless, Christine McCherry, Mary Cardwell and Olive Riley.
Our regular photographer was not available so our thanks go to various members for the
photographs.
Rochdale Open Meeting 6/9/15 report by John Winstanley.
The LAA returned to its roots having been founded in Rochdale in 1909 by a group of like minded writers. This open meeting was a nod to those pioneers as the LAA brought together several writing groups from the north east of Lancashire.
After a welcome by Pauline Hutchinson (LAA Chair) ,Dana Nadeau (LAA committee member) began his talk on the theme of belief systems reading  from  his ground breaking epic "The Cloven Pine" set  in Idaho, USA. Dana used the extract to explain the difference between "conjuring and fake conjuring" that his lead character (Conrad James Hardy) grapples with as one of life's lessons in growing up. From Pennsylvania Dana took us on a journey to Pendle hill and the witch trials of 1612 to demonstrate how humanity has used animal spirit guides and meditation through the centuries via Freud, Jung and African voodoo to the present day celebrity Paul Mckenna, concluding that McKenna's book on how to lose weight, is the modern day witchcraft way for the naughties!
Next speaker, Caroline De La Cruz, posed the question of what makes a good writer or poet. She explained her journey to becoming successful at both from her natural curiosity as a child to joining local writers groups and meeting like minded people who inspired her. She read some of her work including the mouth watering stimulation to the olfactory senses of "Ulster Fry" and "Sea Bass" to "Siesta" (recalling her 5 years in Spain) and how she once took up a challenge to write a story set in 1st Century Britannia.
With only five minutes before Dan Forrester had to leave to get to Warwick in the hope that he had won an award for which he had be short listed, he was able to tell us how his wife persuaded him to write - something he had not done since he was "younger". He joined Oldham Cafe writers' group which gave him the discipline to continue and to enter competitions as he found their feedback "invaluable" in having his work "...seen through a fresh pair of eyes". He gave a short introduction to his latest short story "Seraphim" -about an angel collecting the souls of the damned (available on Spinetinglers.co.uk). He is currently working on an espionage novel and his other works include Holes and Other things and The Fairground (both on Pennyshorts.com) – you can keep in touch with Dan at www.facebook.com/dan.forrester.315 or Twitter@danforrester .
Carol Talbot introduced her book "The Amazing Mary Higgs" by explaining how a librarian at Oldham Local Studies Library introduced her to this pioneering lady while researching for a dissertation (leading to her MA in the History the Manchester Region at Manchester Metropolitan University). Mary Higgs was the first woman to study Science at Cambridge University in the 1870s and after her marriage and motherly responsibilities she found time to address the social and environmental issues by setting up a rescue home for homeless women in Oldham.  The book is written from the perspective of her travel companion Annie Lee and their shared experiences from 1903 onward as Mary took to living rough, dressing as a tramp and, while undercover, she stayed in workhouses and common lodging houses to provide first hand reports to push for legislation to change these inadequate facilities.
The first of the Touchstone writers to read from their work was Val Chapman:  who took us to Morecambe ("Home") and ended with a more philosophical poem called "Landscape of life". Alfie Fairhurst took us on a journey from reflections of those who walked and worked along the canal footpaths ("The Everest of Canals") to a touching tribute to the men who fought in the North Lancashire regiment ("Good Bye to my Mother"). Eileen Earnshaw spoke about how St Mary's church in Rochdale got built buy an incident concerning a clergyman and a rabbit and read "Infinity". Robin Parker, with great flair, read from his book "Edenfield Scrolls" a modern version of a bible story in which Adam and Eve brewed Lancashire Scrumpy from the apples in the garden. Robin will also take part in our Lancashire celebratory day at Lytham on November 21st 2015. Norman Warwick took us to the break with his engaging performance piece "Greta Garbo" and his tribute to his singer songwriter friend Townes Van Zandt (R.I.P) called "The Fade Away Diamond Time".
"What Lies Behind the Writers Pen?" is how Chrissie Keelan (LAA member) introduced her award winning short script that was made into an animated film which was shown to gasps from all as the true nature of the femme fatale was revealed. Peter Jones (LAA Webmaster) drew our attention to the LAA website and the 13 podcast interviews with LAA members/patrons, before reading his cheeky poem "Clandestine Twist".
Pennine Ink writers were represented by Laura Sheridan who raised awareness of the self publishing route to putting our work into print rather than wait or rely on a publisher to discover us. Mervyn Hadfield added dialect poetry to the day with his story that had to include the words Cats, Crystals and Cabbage!
LAA committee members were also represented by Olive Riley (LAA Vice Chair/Competition Secretary) who reminded us of Christmas by reading a selection of her poems with themes of the nativity ("The School Nativity") comedy( "The Night Before Christmas") to nostalgia("Christmas") and then with a modern twist ("Christmas List") finishing on a more serious note with ("Christmas Came to the City") a poem describing a Christmas Shelter for the poor and hungry . Brian Foster (LAA Librarian) introduced various books and articles he had brought from the LAA library – including letters from ex LAA member and local celebrity Gracie Fields.
Finally  John Winstanley (LAA Secretary) brought matters to a close with a quick round up of all the speakers work.
An excellent afternoon's entertainment in a very modern, comfortable venue.  Thank you to all who took part not forgetting those who prepared and served the refreshments.
For pictures from this meeting, please click here.
* * * * *
397th LAA Meeting
Awards Day
Saturday 6th June 2015
On a sunny but very windy afternoon about 30 members attended the Awards Day at Lytham Assembly Rooms. The meeting commenced with the arrival of the Town Mayor of St Anne's on Sea, Councillor Vince Settle and his wife. They were introduced by the President Lily Driver and then presented with roses by Chairman Pauline Hutchinson.
Apologies for absence were received from Lilian Boucher, Eileen Beech, Tom Halsall, Tom and Heather Ungless, Shirley Starkey and Victoria Copeland.
David Fenn from Hayward's Heath Movie Makers was unable to attend to show the film they had made from a story written by Chrissie Keelan. However, Alan Beddows from Southport Movie Makers stepped into the breach and firstly showed us four short, enjoyable yet thought provoking films made by that group. Then followed the Hayward's Heath film titled The Player, a very gruesome, short, animated film which came second in the competition. Chrissie was then presented with a bouquet of flowers and her own copy of the film.
The Chairman of Southport Movie Makers, who also attended said that the Southport group would be interested in making a connection with the LAA and maybe using some of the members' work to make films.
The Mayor then presented the trophies and awards for the 2014 and 2015 competitions. Olive Riley has designed new certificates this year as those used previously were no longer fit for purpose. The new certificate also shows the title of the piece of work for which the award was presented and can be produced on computer.
A letter from David Fenn was read by Pauline Hutchinson giving the result of the 2016 challenge, Behind Closed Doors. The winning story was submitted by Stan Holgate and will again be made as an animation. Brian Riley's entry titled Secretive Actions may also be made into a film as a second entry, using live actors.
After a break for refreshments members' entertainment was provided by Les Bond who did an amusing recitation and song, also Mary Cardwell, Stan Holgate, Dawn Prestwich, Christine McCherry, John Winstanley, Elle-Marie Hinchcliffe and Lily Driver. To finish the afternoon Olive Riley read an interesting old newspaper article about the opening of the Assembly Rooms in 1863 which was attended by all the local gentry.
Please click here for pictures of 2014 Presentation
Please click here for pictures of 2015 Presentation