Home | About Us | Annual Competitions | Open Competition | Membership | Events | Comments | Columnists | Members work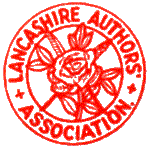 LANCASHIRE AUTHORS' ASSOCIATION
We are an association devoted to the study of Lancashire literature, history, traditions and dialect.
Podcasts | Children's Page | Other Competitions | Contact Us | Links
Pictures page Rochdale
The Lancashire Themed Meeting at Rochdale brought together writers and entertainers from across Lancashire. Here are a few pictures of how the afternoon unfolded.