Home | About Us | Annual Competitions | Open Competition | Membership | Events | Comments | Columnists | Members work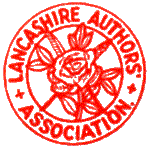 LANCASHIRE AUTHORS' ASSOCIATION
We are an association devoted to the study of Lancashire literature, history, traditions and dialect.
Podcasts | Children's Page | Other Competitions | Contact Us | Links
Pictures page 2018 awards
The 2018 LAA Awards Presentation saw Richard Bramwell win the £100 prize sponsored by Acorn Communuity News for the best story in exactly 100 words and Elle-Marie Hinchcliffe win LAA Writer of the Year for the second year in succession. Here is the day in pictures.