Home | About Us | Annual Competitions | Open Competition | Membership | Events | Comments | Columnists | Members work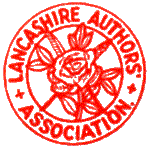 LANCASHIRE AUTHORS' ASSOCIATION
We are an association devoted to the study of Lancashire literature, history, traditions and dialect.
Podcasts | Children's Page | Other Competitions | Contact Us | Links
Pictures page October
The October Meeting was lit up by two ladies doing a clip from Alice in Wonderland in full costume and Santa coming early.
More will be revealed when you view the images below.